Escape under the sea for a fun filled, relaxing weekend…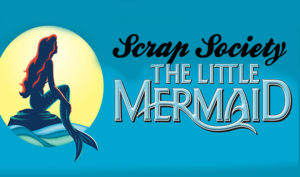 Let's be mermaids! Come spend the weekend with Scrap Society as we relax and just enjoy a weekend in May. We will pamper you and embrace the true meaning of "mermaid hair, don't care".
Weekend Retreats Include:
Everything the day retreats include – just amplified!
57 hours of scrapbooking fun time.
Doors open at 9am on Friday, May 18th, retreat ends at 5pm Sunday May 20th.
6ft of scrapbooking space.
The opportunity to create a fun little project.
Exciting games and camaraderie.
Costume and "pod" decorating participation raffles.
Door prizes, game prizes, raffles and swag at your table.
Food! Enjoy a light lunch or mid-day snack on us Friday, a dinner on Saturday – plus an evening treat each night will be provided.
All day water and coffee service each day.
Plus, if you register by paying in full you will receive a little VIP treatment at the event.
What are you waiting for? Register below…
$175.00
At the Best Western in Henderson.
3041 St Rose Parkway Trail, Henderson, NV 89052.

Please read before registering:
Payment: A $50 portion of the fee for weekend retreats is non-refundable.
Paypal fees are included in the amounts paid online. If you would like to pay by check or cash please use the Contact Us to make arrangements.
If you choose to register with a deposit to hold your spot, you will receive an invoice via PayPal for the balance. You may also use the deposit button to pay additional payments after registering.
By clicking the subscribe button below you are registering for the retreat listed below. Please verify the retreat on the payment page.
If you have a seating request please use the Contact Us form to submit seating requests.
If you are not familiar with our policies please read the FAQ page prior to registering. Registering for a retreat is confirming you have read and agree to any terms on the FAQ page.
This retreat is on waitlist. Please use the Contact Us form if you would like to be added to the waitlist.